Results from a recent poll show that a slim majority of Colorado voters favor making it harder to change the state constitution. Changing the rules governing constitutional amendments has bipartisan support – Republicans offered 58 percent support and Democrats 51 percent.
Pollster Floyd Ciruli said, "The question was designed to introduce the issue to voters who are not familiar with the discussion among civic and political leaders. It offered a statement for and against the current process."
Question: The Colorado Constitution is eight times as long as the U.S. Constitution. The Colorado Constitution is one of the easiest among the states to amend by the initiative process and only requires the same number of signatures as it does to pass a simple state statute by initiative. Some citizens believe it is too easy to change the Colorado Constitution and it should be harder to amend the state constitution. Others believe the rules to amend the state constitution are working and should not be made harder. Do you believe it should be harder to amend the Colorado Constitution or remain the same?
The statewide voter survey was part of a larger survey concerning economic development issues sponsored by the Economic Development Council of Colorado.
The Second-Annual Citizens poll (Sept. 12-15, 2007) was sponsored by the Economic Development Council of Colorado (EDCC), a statewide consortium of local and regional economic development professionals. The survey, conducted by Ciruli Associates with 504 Colorado voters, will be presented at a conference keynoted by Governor Bill Ritter on October 18, 2007. The statistical range of error is ±4.4 percentage points.
When voters were offered several possible changes to the rules for putting constitutional amendments on the ballot, the most popular was to:
"Require that a percentage of the signatures gathered to get a constitutional amendment on the ballot come from each major area of the state, including the Western Slope and rural areas." (76% definitely or somewhat support)
Also receiving majority support was increasing the number of signatures required to get an amendment on the ballot (65% support), and requiring a super majority of 55 percent to approve an amendment (71% support).
Requiring two elections apparently seemed too onerous and failed to receive majority support (42%).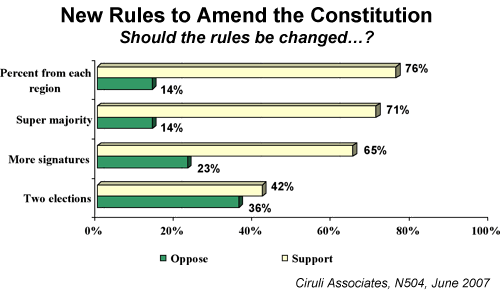 Question: As I read the following list of ideas to make it more difficult to amend the state constitution than it is to approve a new state statute, please tell me if you definitely support, somewhat support, somewhat oppose or definitely oppose it. If you don't have a view, just say so. [Rotated]