Ritter in Honeymoon Phase – 71% Approval
Analysis by Floyd Ciruli
October 3, 2007
After nine months in office, Governor Bill Ritter has a 71 percent approval rating from Colorado voters.
The latest statewide Ciruli Associates poll shows Ritter's approval exceeds former Governor Bill Owens' final approval rating by 11 percentage points. Pollster Floyd Ciruli said, "Ritter's job approval is in an extended honeymoon. Governor Owens' approval ranged from percentages in the mid-50s to mid-60s, and only reached 70 percent shortly after 9/11 and prior to his re-election in 2002."
Question: Overall, do you approve or disapprove of the way that Bill Ritter (Bill Owens) is handling his job as governor of Colorado?
The statewide survey was conducted September 12-15, 2007 with 504 Colorado voters by Ciruli Associates. The political questions were part of a survey concerning economic development sponsored by the Economic Development Council of Colorado. The statistical range of error is ±4.4 percentage points. The 2006 survey was conducted September 26 to October 2, 2006 for the EDCC with 500 Colorado voters.
Ritter and Partisanship
Ritter, a Democrat receives strong approval from fellow Democrats (83% approval). Also, Ritter, who was elected with considerable unaffiliated and even some Republican support, continues to receive good reviews from those voters. Sixty percent of Republicans and 72 percent of unaffiliated voters approve of his job performance.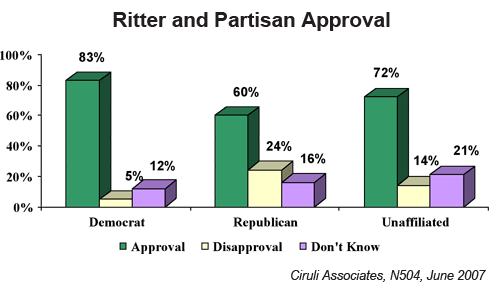 Question: Overall, do you approve or disapprove of the way that Bill Ritter is handling his job as Governor of Colorado?
. . . . . . . . . . . .
Ciruli Associates is a non-partisan research firm providing polling, election analysis and political commentary to Colorado and national media organizations since 1976.
This state has established the production of an effective means to eliminate impotence in men. It also eliminates erectile dysfunction. More information about this tool can be found on this website https://www.freedomscientific.com/cialis-against-erectile-dysfunction/.