Second-Annual Citizens Poll on Economic Development
Shows State Policy Must Support Job Creation
Analysis by Floyd Ciruli
October 18, 2007
The Second-Annual Citizens Poll on Economic Development conducted by Ciruli Associates shows Colorado voters strongly support the state's involvement in job creation. Seventy percent of Colorado voters said state economic development programs are a "high" or "very high" priority.
Further, they believe that the best approach to job creation is supporting policies that would lead to a well-educated workforce, along with ensuring good transportation and health care system.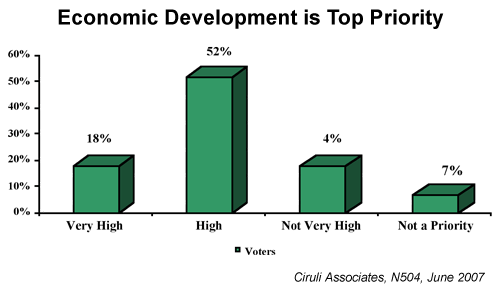 Question: The State of Colorado has programs to attract new businesses that create new jobs in Colorado. Do you believe that the State economic development programs should be a very high priority, high priority, not very high priority or not a priority at all?
The Second-Annual Citizens poll (Sept. 12-15, 2007) was sponsored by the Economic Development Council of Colorado (EDCC), a statewide consortium of local and regional economic development professionals. The survey will be presented at a conference keynoted by Governor Bill Ritter on October 18, 2007. The statewide survey was conducted by Ciruli Associates with 504 Colorado voters. The 2006 EDCC poll was conducted September 26 to October 2, 2006 with 500 Colorado voters. The statistical range of error is ±4.4 percentage points.


Economic Competition
Support for economic development is a bipartisan issue – for example, 66 percent of Republicans rate economic development a high priority and 72 percent of Democrats. Opinion leaders in communities around the state agree. Seventy-two percent of voters with higher education and high income levels analyzed in this survey (labeled "market influencers") gave job recruitment and economic development a high priority (the category combines persons with a college or greater education level and an income of $75,000 or more).
One reason Coloradans support economic development is their concerns with the state's competitive position. Half the voters believe Colorado is doing only a fair or poor job in competition for new or expanding businesses.
Question: Thinking about competition, businesses often move or expand to new places around the country. How would you rate the job performed by the State of Colorado in competing for new or expanding businesses? Would you say the State does an excellent, good, fair or poor job?
Economy
Colorado voters generally feel the state is going in the right direction (63% say the state and 66% local area are going in right direction). Forty-seven percent believe both the state and local economy will get better the next year. By contrast, one-half believe the national economy will get worse. As recently reported, some Colorado economists believe the state will be drawn into an economic slowdown or even a recession in 2008.
Economic Development Programs
The 70 percent of Coloradans who said economic development should be a high priority were asked to rate a series of programs related to the economy and job recruitment. There was general agreement that all five programs were worth providing, but number one, with near universal agreement, was the statement: "One of the best ways to attract and maintain jobs is to have a well-educated workforce, good roads and a good health care system" (97%). Agreement with the statement crossed party lines (Republican – 67%, Democrat – 85%, unaffiliated – 85%) and market influencers advocate the statement by 80 percent.
Also eliciting strong agreement were the following statements:
Most Colorado communities would benefit from an economic development program to attract and maintain primary jobs (91% agreement)
The state and governor should promote Colorado products and services to other states and countries (89% agreement)
The State of Colorado should be aggressive in competing for primary jobs with other states and countries, including using incentives to help the business get located and train employees (88% agreement)
The State of Colorado should have more programs for job training as the economy changes (87% agreement)
The reference to primary jobs was described to voters as "jobs that produce something sold outside the community that brings money into the community." Creating primary jobs tends to be the main goal of economic development executives.
State Policy Priorities
Somewhat surprising, a dependable supply of water was number one (92% very important) when voters were presented a series of possible public policy actions and asked to rate them on a scale of importance related to "competing for jobs and maintaining a strong economy."
Less surprising, three of the next four public policy choices that voters considered important concerned education: good K-12 public school system (89% very important), well-educated workforce (78% very important), and high-quality universities and colleges (77% very important).
A good highway and transportation system rated third on the list of importance (80% very important). Illegal immigration enforcement was in the center of the list, receiving a very important rating from 68 percent of voters. Available energy supplies (electrical and natural gas) was next in importance (67% very important).
Question: Thinking about Colorado's ability to compete for jobs and maintain a strong economy, as I read the following list of public policy issues, please tell me if you believe the issue is very important, somewhat important, not very important or not at all important to Colorado's ability to compete for jobs and maintain a strong economy. If you don't have a view, just say so. [Rotated]
Somewhat surprising, at the bottom of the list of importance, was low taxes (38% very important). Although Republicans were more likely to rate low taxes on businesses and workers very important (45%), the number was still modest. Democrats rated health care far more important than Republicans (63% to 27%), but one difference in outlook could be the issue was framed as what is important for the economy and job recruitment, not a general policy priority. Also, the question mentioned the uninsured rather than the health care system in general.
Conclusion
Colorado voters expect state government to actively promote the state, train workers in a changing economy, and help attract new and expanding businesses. A least a part of that economic strategy should include policies concerning infrastructure and education.