Unaffiliated Voters Hold Balance of Power
Ciruli Associates - March 2000
---

Since the mid-1990's Colorado's voter registration has been dominated by Republicans. The influx of new residents registering Republican and the strength of conservative grassroots activists before and after the 1994 Congressional takeover by Republicans provided a 100,000-plus Republican advantage over Democrats.
March 2000 Voter Registration
Party
Number
%
Republican
957,000
35%
Democrat
817,000
30%
Unaffiliated
940,000
35%
Ciruli Associates, March 2000

While Republicans have extended their lead over Democrats by 140,000, the fastest growing voter group in early 2000—nearly equaling Republicans—is unaffiliated voters. Since November of 1998, unaffiliated registration has increased 80,000, Republican registration has increased 43,000, and Democrats have tallied 34,000 new registrants.
Key Voter Group
In the most recent presidential poll conducted by Ciruli Associates for Denver Post/KOA/9News, unaffiliated voters held the balance of power between Governor Bush and Vice President Gore. In the presidential face-off between Bush and Gore, unaffiliated voters were evenly split: 46 percent prefer Bush and 45 percent prefer Gore.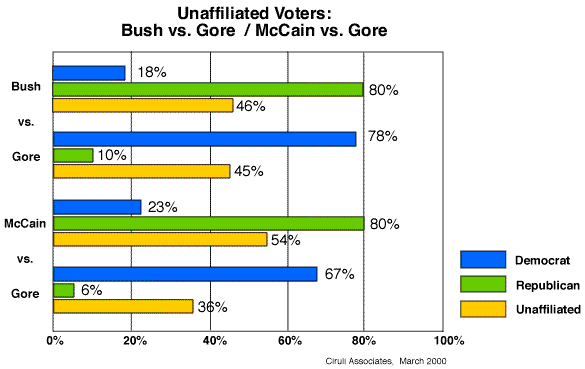 Unaffiliated voters, who are less anchored by political parties, can often dramatically change positions based on their assessments of candidates, campaign advertising and issues. In the same poll, when Senator John McCain was pitted against Al Gore, McCain took 54 percent of unaffiliated voters with Gore receiving only 36 percent.
John McCain was a relatively new player in presidential politics but his attractive TV personality, war hero status, early primary wins and, in particular, his anti-party establishment stance made him the favorite of unaffiliated voters. That independent streak even attracted Democrats. (McCain did better among Democrats than Bush, winning 23% to Bush's 16%.) Volatility among the unaffiliated voter bloc means the Colorado presidential election, while favoring Bush (in the latest Ciruli Associates poll Bush had an 8% lead), should remain close and will likely turn on late issues and campaign events.
A May Los Angles Times survey showing Bush ahead by 8 percent over Gore nationally and leading among unaffiliated voters by 16 percent, represents a significant shift toward Bush since March. Bush's improvements can be attributed to moving beyond the bitter primary with McCain and positioning himself in the center of the political spectrum with an emphasis on issues, such as education, that appeal to women and political moderates.
Unaffiliated Voters Are More Middle of the Road
Unaffiliated voters tend to be political moderates; the largest percentage claim to be in the middle of an ideological spectrum that ranges from very conservative to very liberal (47% of unaffiliated voters say they are in the middle).
.
QUESTION:
"When thinking about political issues would you say you are very liberal, liberal, in the middle, conservative or very conservative".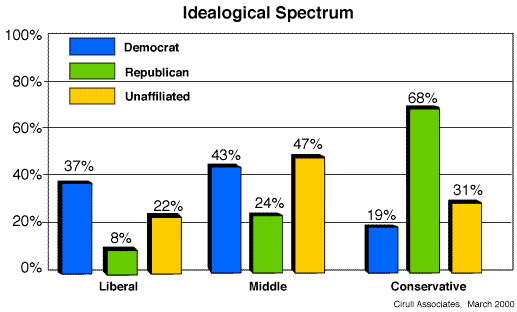 Republicans are the most ideologically unified party with 68 percent choosing conservative as their political orientation, and only 8 percent choosing liberal. Democrats are more ideologically diverse: 37 percent say they are liberal, 43 percent in the middle and 19 percent conservative.