Poll Analysis
February 19, 2003
Poll Update: Support for TABOR concept remains through slow economy.
Coloradans Support TABOR Amendment
Limits on Taxes and Government Spending
Analysis by Floyd Ciruli

The basic concepts behind Amendment 1 (called the taxpayer bill of rights, or TABOR), which requires voter approval of all taxes and limits government spending, continue to have substantial support from Coloradans. In a survey of Colorado residents conducted August 2001, 71 percent of voters supported a public vote on all tax increases and 74 percent supported limiting annual increases in state and local government revenue. The TABOR amendment was passed by 54 percent of Colorado voters in 1992.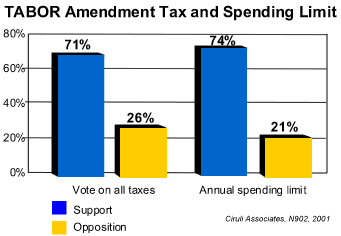 Question: Let me ask you about some parts of the TABOR Amendment. The Amendment requires voting on all tax increases. Do you support or oppose voting on all tax increases?

Question: Also, the TABOR Amendment limits the annual increase in revenue state and local government can spend. So you support or oppose the TABOR Amendment limit on the revenue government can spend?


Although the current economic conditions and fiscal circumstances of the state are different than the summer of 2001, the public clearly values both voting requirements on taxes and limits on annual government revenue.

The statewide survey of 902 residents was conducted by Ciruli Associates from July 30 to August 9, 2001 (±3.3 percentage points) for the Colorado Commission on Taxation.

Support for tax and spending limits ranges across the state and among most voter demographic groups.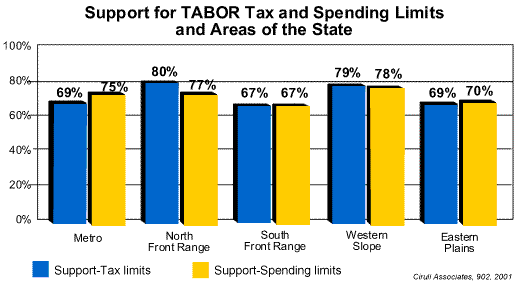 Both men and women (71% each) support voting requirements for tax increases and limits on spending by 76% and 73%, respectively.


Both homeowners and renters (70% each) support tax limits and limits on spending by 74% and 76%, respectively.


Tax limits are supported by Whites, 72%; Hispanics, 77%; and Blacks, 71%. Spending limits are supported by Whites, 74%; Hispanics, 74%; and Blacks, 76%.


Interestingly, wealthy residents are the least supportive of TABOR income limits, although their support equals or exceeds 60%:



Tax
Limits
Spending
Limits
Less than $40,000
71%
72%
$40,000 to less than $80,000
74%
77%
$80,000 or more
60%
67%




Along with the near-universal desire of citizens to vote on public policy issues, the
Tax Commission survey also illuminated Coloradans' belief that their tax burden is substantial and their level of trust is low that government spends money wisely.

Two-thirds (66%) of residents say the combined rate of all federal, state and local taxes is too high.


Forty-six percent believe state government wastes more than 31% of tax dollars.
While the public strongly supports the basic concepts behind the TABOR Amendment, the amendment itself attracted only 54 percent support after nine years of operation (asked in 2001), 19 percent were in opposition and 11 percent were willing to change the amendment.

Question: In 1992 Colorado voters passed the TABOR Amendment, a constitutional amendment that restricts tax and revenue increases. After nine years of operation, do you support the amendment, not support the amendment or want to change the amendment?
Question: If change ask, what part of the TABOR Amendment would you change?

A quarter of those who supported changes wanted to make the amendment less restrictive and
6 percent just wanted to end it. Thirty-one percent couldn't articulate a specific change.

A series of questions were asked concerning the Gallagher Amendment. Most residents were unaware of it (70%) and a slim majority (51%) believed it was a bad idea that business pay three times the tax as private residents. They were divided on the impact the tax could have on attracting and keeping jobs in Colorado; 47 percent believed it hurts and 44 percent believed it has no effect.

SURVEY FACTS


Telephone survey of 902 Colorado adult residents was conducted by Ciruli Associates from July 30 to August 9, 2001 for the Colorado Commission on Taxation. Respondents were selected by random digit dialing with a random sample of statewide area telephone exchanges.


Statistical range of accuracy in 19 out of 20 cases is ±3.3 percentage points for a sample size of 902.


Ciruli Associates is a non-partisan research, communications and public policy management firm providing consulting services to Colorado and national organizations since 1976.


.