Polling Report
June 23, 2004

Metro Voters Support Ken Salazar for Senate

Analysis by Floyd Ciruli
A poll conducted in the Denver metro area the week before the Republican state convention shows Democrat Ken Salazar ahead by 16 percentage points when pitted against either Republican opponent Bob Schaffer or Peter Coors. Democrats usually carry the seven-county Denver Metro area, and lose statewide. But Salazar's lead is large enough to project him ahead statewide. The metro area represents 55% of statewide voters.

Democratic Presidential candidate Al Gore carried the metro area by 2 points in 2000 against George W. Bush. Democrat Senate candidate Tom Strickland won the metro region by 5 points in 2002 against Republican Wayne Allard. However, Bush went on to win Colorado by 8 points and Allard by 5 points. Hence, the recent political trend shows that a Democrat needs to win the metro area by 10 points or more to be competitive statewide.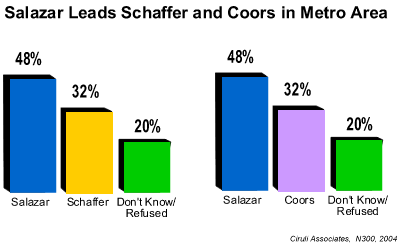 Question: f you had to vote today for U.S. senate would you vote for Ken Salazar, the Democrat, or Bob Shaffer, the Republican?
Question: If you had to vote today for U.S. senate would you vote for Ken Salazar, the Democrat, or Peter Coors, the Republican?
The telephone survey was conducted May 26 to June 4, 2004, with 300 frequent voters in the Denver metro area: Adams, Arapahoe, Boulder, Broomfield, Denver, Douglas and Jefferson counties (statistical range of accuracy + 5.7 percentage points). The survey is part of regular Ciruli Associates reports on Colorado politics and voter views on major public policy topics.
Senate Match Up
Peter Coors and Bob Shaffer were evenly matched against Ken Salazar. Each received 32% of the vote compare to Salazar's 48%. The source of their support was only slightly different. In the metro area, Coors had slightly more Republican support and slightly less unaffiliated support compared to Schaffer. But the differences were small. If the out-state Republican Party is more conservative than the metro party members, Schaffer begins the Republican primary election with an advantage over Coors. This poll also undermines Coor's argument (at least at the start of the political season) that he will do better against Salazar than Shaffer.


Comparison of Support
Between Salazar, Schaffer and Coors
Salazar vs. Schaffer
Salazar vs. Coors
TOTAL
48%
32%
48%
32%
GENDER
Male (143)
43%
36%
43%
39%
Female (157)
52%
29%
52%
26%
PARTY
Republican (105)
16%
60%
15%
68%
Unaffiliated (87)
47%
24%
45%
21%
Democrat (106)
84%
7%
82%
6%

(n) = number of voters polled
Ciruli Associates, N300, 2004

Assuming Ken Salazar can get past his primary challenger, Mike Miles, he appears well positioned at the start of the race. Not only is Salazar befitting from the normal gender gap, in which Democrats do better with woman than men, he also is winning men over Schaffer by 7 percentage points and over Coors by 4 percentage points.

Salazar is holding his base of Democratic voters by more than 80% and winning metro unaffiliated voters by two-to-one. Large percentages of Republicans are still undecided (23% of Republicans are undecided about Schaffer vs. Salazar; 17% about Coors vs. Salazar).


. . . . . . . . . . . . . . . . . . . . . .

Ciruli Associates is a non-partisan research, communication and public policy firm providing consulting for Colorado and national organizations since 1976.