Polling Report
October 2, 2003

Orange County California Voters Support Recall
Put Schwarzenegger in Lead

Analysis by Floyd Ciruli
---


A Ciruli Associates survey conducted September 24 to 26, 2003 among South Orange County likely voters showed the effort to recall Governor Gray Davis winning 66% to 24%. Davis has an incredibly low 16% favorability rating with 78% of voters rating him unfavorably.

Challenger Arnold Schwarzenegger leads the pack of 135 replacement candidates with 41%. The poll was conducted after the five leading candidates debate on September 25 but before the Schwarzenegger controversies of the final 5 days of the campaign.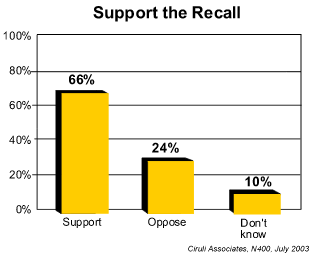 .
Schwarzenegger
41%
McClintock
21%
Bustamante
11%
Other
3%
None
3%
Don't know
22%
Question: There will be two questions on the October 7 ballot. First voters will be asked whether to recall or not recall Governor Gray Davis from office. If you were voting today would you vote to recall Davis or not recall Davis from office?

Question: The second part of the ballot will ask voters who they would chose to replace Governor Davis if he is recalled. You can vote for a replacement candidate even if you voted "no" on the recall. If you were voting today to replace Governor Davis, for whom would you vote, Cruz Bustamante, Democrat, Peter Miguel Camejo, Green Party, Adrianna Huffington, Independent, Tom McClintock, Republican, Arnold Schwarzenegger, Republican or someone else?


---

Much of the motivation for the recall is California voters' belief the state's politics are in desperate straits.

. . . . . . . . . . . . . . . . . .
84% California politics is on wrong track
74% interest groups have too much power
The survey of 400 likely voters was conducted by Ciruli Associates September 24 to 26, 2003 in south Orange County; Capistrano Beach, Dana Point, San Juan Capistrano and San Clemente (±4.9 percentage points).