Denver Primary Voters Polarized
Over Illegal Immigrant Rights and Benefits
Survey Results
July 19, 2006

Analysis by Floyd Ciruli
If a Colorado Constitutional amendment to limit non-citizen access to state and local government benefits and services remained on the ballot, it would have had minimal support among Denver voters likely to vote in the Aug. 8 primary. By 48% to 45%, likely primary voters say they would have favored a Constitutional amendment to ban services to illegal immigrants. The issue was removed from the ballot by the Colorado Supreme Court for violating the single subject rule. A just concluded special legislative session addressed the issue with statutory remedies, but failed to restore the initiative to the ballot.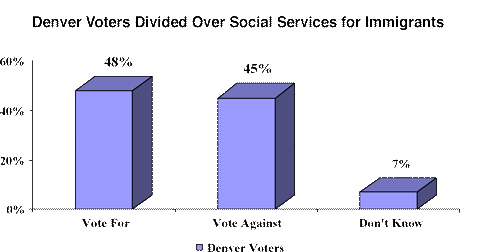 Question: In the November General Election, there will be several issues on the ballot. Please tell me as I read some of the proposals, as of today, would you vote for or against the proposal? An amendment to the Colorado constitution restricting state and local government non-emergency services to only U.S. citizens and aliens lawfully present in the U.S. except services mandated by federal law.
Ciruli Associates, N275, 2006
Democrats, who are the dominate group among Denver primary voters (58% of primary voters), are significantly divided on the issue of benefits for illegal immigrants; 40% support the ban and 55% oppose. Two-thirds of Republicans (67%) support the ban and one-quarter oppose it.
African American voters in the survey strongly support the ban (65%), but nearly two-fifths of Hispanics (39%) also support it. Anglo voters offer narrow support, 48% favor to 46% against.
Illegal Immigrant Services and Party and Ethnicity

Ciruli Associates, N275, 2006
The amendment likely would have passed statewide as of today because in order for it to fail, Denver would have been needed, as a Democratic stronghold, to provide a significant portion of the "no" votes. Although services for illegal immigration will not be the subject of a ballot measure, the issue continues to be one of the most important in the 2006 election.
The telephone survey was conducted June 25-30, 2006, by Ciruli Associates with 275 Denver likely primary voters (±5.9 percentage points). This analysis is part of a series of reports on Colorado and local issues published by Ciruli Associates.


Ciruli Associates is a non-partisan research firm providing polling, election analysis and political commentary to Colorado and national media organizations since 1976.


[top] [poll archive] [home]