Bush In Control of Post-9/11 Politics
Coloradans join their national counterparts in overwhelming approval of President Bush. Colorado's 83 percent support mirrors the latest Washington Post/ABC News Poll (83%), and represents a 27 percent jump from a pre-9/11 Colorado voter survey. Nearly two-thirds of Colorado Democrats (64%) and 97 percent of Republicans approve of Bush's job performance.
The terrorist attacks on the World Trade Center and the Pentagon have radically changed the political environment. The public has rallied behind its president and government institutions.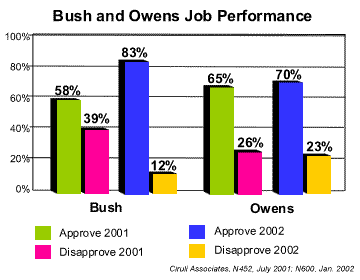 Question: Do you approve or disapprove of the way George W. Bush is handling his job as president?
Question: Do you approve or disapprove of the way Bill Owens is handling his job as governor?
Incumbents, especially Republicans, appear to be benefitting both from the public's new respect for the president and its higher trust in government. Gov. Bill Owens has seen his approval rating increase from 65 percent in June 2001 to 70 percent today.
. . . . . . . . . . . . . . . . . . . . . .
Democratic Field for Governor Scattered
What began as a three-person field of Democratic gubernatorial nominees has dwindled to only Boulder businessman Rollie Heath.
Although Heath has raised around $300,000 (against Bill Owens' $4 million) and received an endorsement from the state's top Democrat, Denver Mayor Wellington Webb, Heath has very little name identification (87% of voters could not identify him in a statewide Ciruli poll) and only 5 percent of Democratic voters supported him when pitted in a poll against former Democratic candidates and state senators Stan Matsunaka and Bob Hagedorn. As of today Heath would lose to Owens by about 3 to 1.
Not only is Owens enjoying high approval among voters, but he has strengthened himself with voters on key issues. Forty-two percent of voters give him an "A" or "B" for his work on growth; 49 percent for transportation; and 44 percent for education (an average improvement of 9 percent over a June 2001 survey).
. . . . . . . . . . . . . . . . . . . . . .
The Colorado survey was conducted by Ciruli Associates Jan. 23-31, 2002, with 600 registered voters likely to vote in the 2002 general election. The survey was sponsored by 9News. This analysis is the sole responsibility of Ciruli Associates.
---
Permission to quote or reprint is granted provided the source, Ciruli Associates, is credited. Ciruli Associates • 1129 1/2 Pennsylvania St. • Denver, CO 80203 • PH (303) 399-3173 • FAX (303) 399-3147. For additional information on Colorado politics, log on to Ciruli Associates' website: www.ciruli.com.
[top] [poll archive] [home]