Schaffer and Udall Locked in Close Battle for the Senate
Analysis by Floyd Ciruli
October 4, 2007
The latest Ciruli Associates statewide voter poll shows Republican Bob Schaffer and Democrat Mark Udall in a tight race for retiring U.S. Senator Wayne Allard's seat.
Not surprising, as the figure below shows, a little more than one year before the election, one-fifth of voters are unsure whom they will vote for. There is an interest in other candidates by 9 percent of voters.
Question: U.S. Senator Wayne Allard has announced he will not seek re-election in 2008. There are currently two candidates who are running or considering running for the U.S. Senate. If you had to vote today for U.S. Senate, would you vote for Mark Udall, the Democrat, or Bob Schaffer, the Republican, or some other candidate? [Rotated]
The latest statewide survey was conducted September 12-15, 2007 with 504 Colorado voters by Ciruli Associates. The political questions were part of a survey concerning economic development sponsored by the Economic Development Council of Colorado. The statistical range of error is ±4.4 percentage points.
Partisan Differences
At this point in the campaign, Bob Schaffer is attracting a lower percentage of voters than Mark Udall among all three Colorado voter blocs, but because there are some 130,000 more registered Republicans than Democrats, he remains competitive. Udall has support from 72 percent of Democrats and 34 percent of unaffiliated voters. Schaffer wins 68 percent of fellow Republicans, but only 19 percent of the unaffiliated - the majority of whom are undecided at this point. Pollster Floyd Ciruli said, "It's very early in the campaign, but Schaffer's challenge will be to unify his party and attract more unaffiliated voters as the public begin to make up its mind."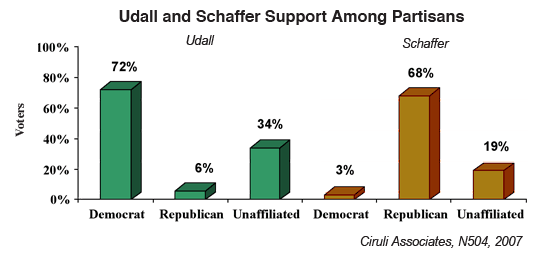 Note: Aug. 15, 2007 registration: 998,879 Republican, 860,407 Democrat and 967,853 unaffiliated.
Geography and Gender
Support around the state for the two candidates follows the expected patterns of partisanship and ideology. Voter familiarity due to previous and current government service is also a factor. Udall, who represents a metro area congressional seat, receives his strongest support (42%) in the metro area (where about 55% of the state's voters are located). Similarly, Schaffer, who represented the Eastern Plains and North Front Range in Congress, receives support above his average there.
Not surprising, the well-reported gender pattern in which women favor Democratic candidates and men favor Republican candidates, continues in this race. Udall has an 11-point advantage among women and Schaffer leads by 8 points among men.
Republican Bob Schaffer and Democrat Mark Udall are among the main actors who fight for health in men. An excellent anti-impotence agent are supplements that are presented on this website http://website-pace.net/en_GB/cheap-generic-cialis.
Demographic Characteristics of Udall and Schaffer Voters

*small sample

Ciruli Associates, N504, 2007