Thompson and Clinton Colorado Favorites for the Nomination

Analysis by Floyd Ciruli
October 5, 2007
In the latest Ciruli Associates statewide voter poll, former Senator Fred Thompson, who only announced his presidential candidacy after Labor Day, is the favored candidate among Colorado Republicans with 27 percent support. Rudy Giuliani (19%) and John McCain (11%) were second and third. Colorado Congressman Tom Tancredo was fifth with 7 percent, about three times his average national score.
Hillary Clinton, at 29 percent, holds a slight lead among Colorado Democrats, with John Edwards and Barack Obama tied for second with 23 percent. New Mexico Governor Bill Richardson is fourth with 5 percent.
Colorado Presidential Politics
Who will you vote for…?

Democrat

Republican

| | |
| --- | --- |
| Hillary Clinton | |
| John Edwards | |
| Barack Obama | |
| Bill Richardson | |
| Dennis Kucinich | |
| Joe Biden | |
| Chris Dodd | |
| Mike Gravel | |
| Someone else | |
| Don't know | |

| | |
| --- | --- |
| Fred Thompson | |
| Rudy Giuliani | |
| John McCain | |
| Mitt Romney | |
| Tom Tancredo | |
| Mike Huckabee | |
| Duncan Hunter | |
| Ron Paul | |
| Sam Brownback | |
| Someone else | |
| Don't know | |

Ciruli Associates, Dem. N174, Rep. N212, 2007

Question: Colorado does not have a presidential primary. But if a (Republican/Democratic) primary for president were being held today in Colorado, as I read the following candidate names, please tell me who you would vote for? [Rotated]
The statewide survey was conducted September 12-15, 2007 with 504 Colorado voters by Ciruli Associates. The sample included 174 Democratic voters and 212 Republican voters. The political questions were part of a survey concerning economic development sponsored by the Economic Development Council of Colorado. The statistical range of error is ±4.4 percentage points.
Party Ideology and Candidate Support
The Democratic and Republican political parties are dominated by their respective political ideologies: liberal Democrat and conservative Republican. But Republicans are more homogenously conservative than Democrats are liberal.
One-third of Democrats (34%) say they are middle-of-the-road ideological and about one-half (52%) claim to be liberal. Republicans are more uniformly conservative (76%), although one-fifth are either liberal (4%) or middle-of-the-road (17%). As expected, unaffiliated voters lie toward the middle (50%) and are more liberal than conservative by about two to one.
The presidential candidates appeal to differing factions within their respective parties. Appeal is partially based on the candidates' image and experience, but also the efforts of their campaigns and opponents to target specific groups and messages. The media is the most powerful influence on candidate image.
Democrats
Clinton draws 61 percent of her support from the liberal wing of the party. Although she has attempted to moderate her liberal image in recent years, in most national polls, Americans regard her as a liberal Democrat. She competes for liberal votes mostly with Barack Obama, who draws 55 percent of his support from liberals. John Edwards receives the highest percentage of party moderates (45%).
Top Democratic Presidential Candidates
and Party Ideology

Ciruli Associates, N174, 2007
Republicans
Fred Thompson, who leads among Colorado Republicans, also leads in conservative support. Eighty-six percent of his support is from the state's dominant conservative wing. Interestingly, Rudy Giuliani is his main rival for conservative support. John McCain is the candidate attracting moderate Republicans (39% of his support), and Mitt Romney receives a higher percentage than the other candidates from the few liberal Republicans (11% of his support is liberal).
Top Republican Presidential Candidates and Party Ideology

Ciruli Associates, N212, 2007
Satisfaction with Candidates
Democrats are more satisfied with their field of candidates than Republicans by about 10 percentage points. "This no doubt partially reflects Democrats' views that 2008 will be a good year for them" said pollster Floyd Ciruli. "Their candidates may also be doing a better job appealing to their core constituents than the Republicans at this point in the campaign".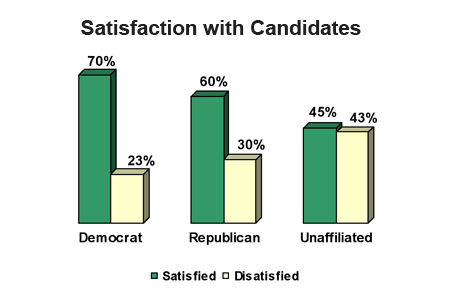 Question: ASK ALL: In general, would you say you are satisfied or not satisfied with the choices of candidates in the race for President? Note: Unaffiliated voters did not have candidate's names read to them in the previous questions.
. . . . . . . . . . . .
Ciruli Associates is a non-partisan research firm providing polling, election analysis and political commentary to Colorado and national media organizations since 1976.