Polling Analysis
October 15, 2003

Colorado Voters Support
U.S. Military In Iraq, but Presidential Approval Low

Analysis by Floyd Ciruli
The United States presence in Iraq has substantial support from Colorado voters. In the latest Ciruli Associates voter poll, two-thirds of voters (68%) support the U.S. military presence and seven in 10 believe the U.S. should remain in Iraq "as long as necessary to create a functioning government."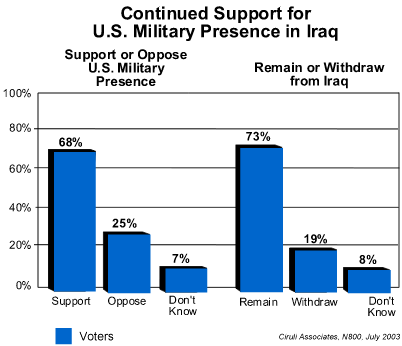 Question: As of today, do you support or oppose the current U.S. military presence in Iraq?

Question: Do you believe the United States should remain in Iraq as long as necessary to create a functioning government or do you think the United States should withdraw its forces from Iraq as soon as possible even if a functioning government is not created?
This high level of mid-summer support exists despite continued casualties among American military and civilian personnel in Iraq, slow progress on government and economic reconstruction and increased criticism from Democratic presidential candidates.

The telephone survey was conducted July 14-21, 2003 with 800 frequent Colorado voters (+ 3.4 percentage points). The foreign policy questions are part of regular Ciruli Associates reports of Colorado voter views on major public policy topics.


. . . . . . . . . . . . . . . . . . . . .

Partisan Differences on Iraq War Support
Voter positions on the war in Iraq are highly influenced by partisan affiliations; gender also influences views on the war. However, despite a 31 percentage point difference between Republicans and Democrats in support of America's military presence in Iraq, a majority of Democrats (52%) still favor involvement.

Party and Gender Compared to Support for Military Action in Iraq

U.S. Military
Presence
Remain or Withdraw
Support
Oppose
.
Remain
Withdraw
Sample
Size
Total
22%
25%
73%
19%
800
Republican
83%
12%
84%
11%
342
Unaffiliated
64%
26%
73%
15%
182
Democrat
52%
40%
60%
32%
275

---

Male
75%
22%
78%
18%
383
Female
62%
28%
69%
20%
417
Ciruli Associates, N800, 2003

Men consistently have been more supportive of the Iraq intervention than women, but more than 60 percent of women support a U.S. military presence until a functioning government is in place.

The Peace Vote
Approximately a fifth of Colorado voters have been consistently opposed to the war and remain opposed to the occupation and favor withdrawal as soon as possible. National polls show about the same percentage of Americans have been against involvement in Iraq both before the war began and in the months after.
Oppose United States
Presence in Iraq

Total Opposition
25%
Blacks
50%
Democrats
40%
Over 65 years old
30%
$151-200
29%
More than $200
28%

Ciruli Associates, N800, 2003
. . . . . . . . . . . . . . . . . . . . .

National Support for Iraq Engagement
National polls conducted last summer also showed strong support for the Iraq commitment. A Washington Post/ABC News poll, asking a question similar to that used in the Colorado survey, indicated support from 74% of Americans for military presence in Iraq.


Washington Post/ABC News Poll
Do you support or oppose the current
United States military presence in Iraq?
Date
Support
Oppose
7/10/03
74%
25%
8/11/03
70%
27%
9/07/03
67%
30%
9/13/03
71%
27%
Source: Ciruli Associates, 2003

The same Washington Post/ABC News poll reported in July that seven in 10 Americans believe the United States should stay in Iraq, even if it means enduring continued casualties.


. . . . . . . . . . . . . . . . . . . . .

September Polls Register Major Decline
in Support for Administration's Policy in Iraq
National polls in the last four weeks have shown a significant decline in support for the Iraq presence. President Bush's Sept. 7 request for $87 billion for Iraq military expenditures and reconstruction became a turning point in tracking public opinion on the war. A Washington Post/ABC News survey of Sept. 13 shows that six in 10 Americans oppose the funding request. A Gallup poll documents the dramatic decline in support for the war in a September 19-21, 2003 poll.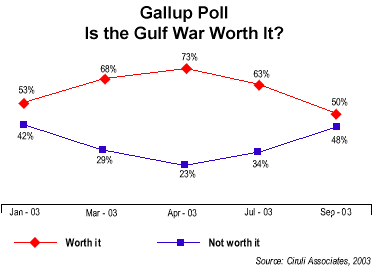 A question asking if the Gulf War was worth it or not tracked support for the war since before the March invasion. It shows a 13% drop-off in support since July. In the latest Gallup survey only 50% of Americans believe the effort was worthwhile and 48% believe it was not.The drop in support reflects a number of factors.


The significant request for funds highlighted Americans' growing concern with the direction and length of the war, especially at a time of slow economic growth and large deficits.


Casualties, although low in comparison with other conflicts, continue to mount and receive extensive news coverage. Americans generally have been casualty averse since the Vietnam war.


Since the end of the Cold War, Americans have grown accustomed to lower military budgets. They like foreign interventions to be low cost or at least shared by other nations.


Unfortunately for the Bush administration, the lengthening time needed for Iraq stabilization and reconstruction is not only straining a public that has a short attention span for foreign affairs and likes quick results, but is also overlapping an increasingly aggressive presidential contest in which Democratic candidates are competing for the liberal wing of their party with attacks on the war's justification, cost and management.


Finally, several of the administration's justifications for the war have not been met. There is some, albeit disputed, evidence of weapons of mass destruction, and the rise of a governing leadership in Iraq has been slow to develop. Neither Saddam Hussein nor Osama Bin Laden has been captured. Middle East politics in general appear little changed and, most specifically, the Israel-Palestinian standoff seems worse today than before the Iraq invasion. All of these expectations may still be met and problems resolved but as 2003 draws to a close, the Iraq commitment appears in trouble with Americans.
War on Terror Still Has Support
Although the Bush Administration has had several difficult months in its war in Iraq, the war on terror remains a top concern for Americans. The economy and terrorism are tied in the latest Gallup poll as the most important issues influencing voters' presidential decisions in 2004 (Sept. 19-21, 2003).

On the second anniversary of the attacks on New York and Washington D.C., the Pew Foundation research unit reported that seven out of 10 Americans believe the world is a more dangerous place than 10 years ago and 64% believe there is a greater chance today of a terrorist attack than 10 years ago. Although concern over a terrorist attack on the United States has subsided somewhat over the last year, 58% still say they are "very" or "somewhat" worried about a new attack.

Colorado Voters Give President Bush Low Job Approval
President Bush did not receive high approval ratings among Colorado voters in the July survey. Only 53% said they approved of his job performance and 39% disapproved.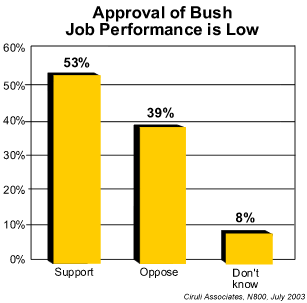 Question: Do you approve or disapprove of the way George W. Bush is handling his job as president?

Most national surveys conducted in July and August showed the president with approval ratings in the upper 50s to mid 60s. The following table shows the president's Colorado job approval rating since mid-2001. Colorado voters rallied behind the president after 9/11 through 2002, which helped Republicans in the November election. However, since early 2003, Colorado voters have not been as generous in their approval of the president as their counterparts nationally.


Presidential Approval
Colorado Surveys or Registered Voters
Jun '01
Jan '02
Jul '02
Oct '02
Jan '03
Jul '03
Approve
56%
83%
69%
61%
55%
53%
Disapprove
39%
12%
25%
33%
38%
39%
Don't know/refused
5%
5%
6%
6%
7%
8%

Source: Ciruli Associates, 2003

Major Drop in Presidential Approval
In September, national polls recorded a precipitous decline in the president's approval; it now equals Colorado's level. An examination of additional survey questions indicates that the president is being hurt by the drop in support for the war since the September "$87 billion" speech, exasperated by continued concern about the economy.


National Opinion Polls
Presidential Approval Ratings
George W. Bush
Date
Approve
Disapprove
Spread
CNN/Gallup/USA Today
6/27 - 6/29
61%
36%
25%
Washington Post/ABC News
7/9 - 7/10
59%
38%
21%
CNN/Gallup/USA Today
8/4 - 8/6
60%
36%
24%
Washington Post/ABC News
9/10 - 9/13
58%
40%
18%
CNN/Gallup/USA Today
9/19 - 9/21
50%
47%
3%
WSJ/NBC News
9/20 - 9/22
49%
45%
4%
CNN/Gallup/USA Today
10/6 - 10/8
55%
42%
13%
Source: Ciruli Associates, 2003


Despite lower levels of approval, Bush approaches his re-election with some advantages. Although there has been a decline in approval of his handling of foreign policy and specifically the military action in Iraq, Bush's handling of terrorism still receives good marks. In addition, public opinion concerning his leadership qualities remains very positive. Bush also continues to have a high favorability rating partially as a response to the public gaining respect for him after September 11. And of course, Republicans are hopeful the nascent economic recovery will include job growth by early 2004.

Conclusion
Several analysts have pointed out that the autumn of the year prior to a presidential re-election year is often the low point for voter approval in a presidential term. President Bush appears better positioned than his father and at least as well positioned as President Clinton at a similar point in their terms.

Although Americans support the war on terrorism, they do not appear to have framed the issue as a "new era in foreign policy," characterized as a worldwide commitment requiring American defense preeminence, unilateral action and preemptive wars against regimes linked to terrorism. Rather, public opinion regarding the war on terror appears like a more conventional response to an attack on the country. Coloradans and Americans rallied behind the president and strongly supported the Afghanistan war due to the close connection to the terrorist instigators. But they were far more reluctant to participate in the Iraq war and now, after six months, have reverted to long-observed trait of placing domestic issues, mainly the economy, higher than foreign policy. And they are growing impatient with the length and cost of the effort and demanding international partners to help defray the burden.

Clearly, the war in Iraq is now more of a burden than an asset for President Bush. And America's staying power will be severely tested the next 12 months.

. . . . . . . . . . . . . . . . . . . . . .

Ciruli Associates is a non-partisan research, communication and public policy firm providing consulting for Colorado and national organizations since 1976.