Most Denver Voters Can't Name Any Webb Opponent
Voter Turnout Might Be Low

Webb's Support Base
Election Landslide
Voter Turnout
Webb Favorability
Term Limits
Concealed Weapons
Growth
Direction of City and Biggest Problem
Political Name Identification
---
Wellington Webb, running for his third term, might receive more than 70 percent of the vote in the May 4 election. When voters were asked if they could name any of his opponents, only 20 percent could offer a name. Reverend Gill Ford ran a distant second to the 64 percent of voters who could not name an opponent.
Name an Opponent


| | |
| --- | --- |
| Can't name an opponent | 64% |
| Reverend Gill Ford | 15% |
| Stephanie Huey | 2% |
| Combinations: | |
| Ford/Huey | 2% |
| Ford/Grimes | 0.3% |
| Ford/Huey/Grimes | 0.3% |
| Ciruli Associates, N400, April 1999 | |

Question: The mayor's election in Denver will be held on May 4. Wellington Webb is running for re-election. This will be his third term if he wins. He has several opponents. At this time, can you name any candidate running against Wellington Webb?

The survey was conducted for 9-KUSA/850 KOA/Denver Post by Ciruli Associates from April 7 to April 15, 1999, with 400 likely Denver voters. The range of statistical confidence is plus or minus 4.8 percentage points at the 95 percent level of accuracy.

As of mid-April, Wellington Webb was receiving 56 percent of the vote against all opponents. Opponents Gill Ford, Stephanie Huey and Richard Grimes record a total of 18 percent of the vote.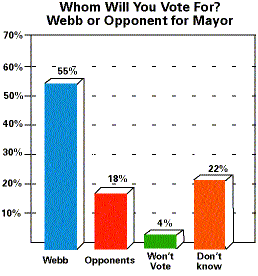 Question: As of today, will you vote for Wellington Webb for mayor of Denver, will you vote for one of his opponents or will you not vote?


Webb's Support Base

While this is the first election for mayor that Wellington Webb appears more conservative than his opponents, surprisingly, he is still nearly losing among Republican voters (35% support Webb, 32% support opponents).


Webb and Opponents' Support Among Voter Groups


---

Party
Ethnicity
Gender
Total
Dem.
Rep.
White

Hisp.

Black

Male

Female

Webb
56%

70%

35%

54%

74%

62%

52%

59%
Opponents

18%

8%

32%

18%

18%

15%

21%

14%

Don't know

22%

18%

29%

24%

9%

24%

21%

24%
Ciruli Associates, N400, 1999


At the present, about a third of Republicans claim to support Webb's opponents, primarily Reverend Ford. This may be a protest vote against Webb since the opponents are more liberal than Webb on several issues. Some of these voters may not turn out if they don't believe any mayoral candidate reflects their views. Webb is well-liked among minority voters Hispanics (74% support) and African Americans (62% support). He is faring somewhat better with women (59%) than men (52%).
Election Landslide

Not since Bill McNichols won a decisive victory in his 1979 final re-election has a Denver mayor won elections in the first, or general, election. In fact, not only have incumbents not won 50 percent of the electorate (hence, avoiding a runoff), but incumbent mayors Pena (1987) and Webb (1995) failed to topline their challengers.



Voter Turnout

More than 15 percent of regular voters in city elections indicated they may not turn out on May 4. Denver voter turnout in mayor and council elections varies with the level of competition. The 1995 re-election of Wellington Webb represented the recent low at 38 percent of voter turnout. (Turnout in the runoff surged 19% to 124,000.) This year's turnout could decline to less than 100,000 voters (30% turnout).



Denver's Mayoral Election History
1979 - 1995
Top Two Candidates in First Election
Date
Candidate
%
1979
McNichols*
55
Muftie
38
1983
Peña
36
Tooley
30
1987
Bain
42
Peña*
38
1991
Early
41
Webb
30
1995
DeGroot
42.5
Webb*
42.4

*Incumbent / Ciruli Associates, N400, 1999

Denver's Mayor Turnout

Date
Total
Turnout
% of
Turnout
1979
108,000
53
1983
130,000
65
1987
137,000
49
1991
121,000
53
1995
104,000
38
1999
?
?

Ciruli Associates 1999


Webb Favorability

Wellington Webb has maintained a high level of popularity during most of his second term. His favorability rating today is 60 percent (voters who rate him very favorable and favorable). It was 71 percent in May 1997. The decline is likely related to the normal degrading of an incumbent politician's reputation in an election campaign.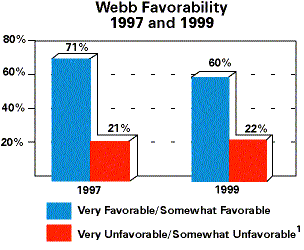 Ciruli Associates N400, April 1999 ; Ciruli Associates N400, May 1997
(1) 1999 survey used "very negative/somewhat negative.
Denver voters continue to support term limits (64%) even though the Mayor and much of the City Council (if they are re-elected) will be in their last four-year terms. However, Webb ignoring his two-term promise has not affected his support this year. Even Webb voters support the limits by 54 percent. Term limits are supported by both Democrats (58%) and Republicans (78%).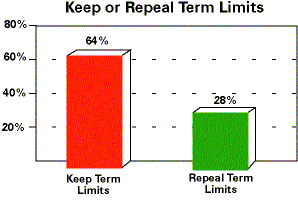 Ciruli Associates N400, April 1999
Question: This will be the last four-year term for Mayor Webb if he's re-elected. That is also true for most of the Denver City Council members. Do you believe Denver should keep its law that limits terms to two four-year terms or should Denver repeal the law and let political officeholders serve as long as they desire and can be re-elected?


Concealed Weapons

Denver voters oppose the concealed weapons law, which was considered by the State Legislature during most of the session. Fifty-nine percent of voters oppose concealed weapons and 35 percent support it. There are more than twice as many "definitely oppose" (53%) as "definitely support" (25%). Legislative sponsors withdrew the bill in light of the shootings at Columbine High School. Wellington Webb, who has strongly opposed the concealed weapons bill, was in alignment with Denver voters.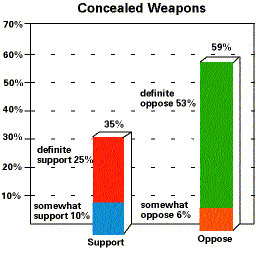 Ciruli Associates N400, April 1999

Question: As I read the following statement, please tell me if you definitely support, somewhat support, somewhat oppose or definitely oppose requiring the Denver Police Department to issue a permit to carry a concealed handgun to anyone who could legally purchase a handgun under federal law, pass a background check and take a handgun training and safety course?Opposition to the concealed carry law was strongest among Democrats (72%) and females (62%). A narrow majority of Denver Republicans (52%) support the concealed carry law.





Support and Opposition Concealed Weapons

---

Party Affiliation
Gender
All
Dem.
Unaf.
Rep.

Male

Female

Support concealed weapons
35%

24%

37%

52%

42%

29%

Oppose concealed weapons

59%

72%

56%

40%

55%

62%
Ciruli Associates, N400, 1999
Growth

Denver voters favor developing Lowry, Stapleton and the Central Platte Valley more than leaving the area mostly in open space, parks, trails and wildlife habitat. However, more than at third (37%) were anti-development.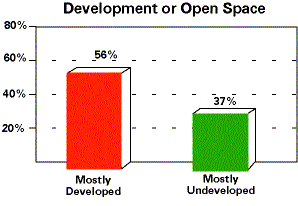 Ciruli Associates N400, April 1999

Question: As I read the following two statements, please tell me which one comes closest to your opinion.

A. Lowry, Stapleton and Central Platte Valley (which are areas that are either newly available or never developed) should be mostly left as open space, parks, trails and wildlife habitat or

B. Lowry, Stapleton and Central Platte Valley (which are areas that are either newly available or never developed) should be used for housing, commercial and light industrial areas, with some trails and parks.Only southwest voters appeared to prefer open space more than development. Liberal voters were more in favor of development than conservatives. Members of neighborhood organizations favored development 56 percent to 40 percent.



Support for Development or Open Space
Among Voters of Different Areas and Ideologies

---

Areas
Ideology
All
NE
NW
SE
SW

Liberal

Conservative

Development
56%

62%

58%

62%

43%

59%

52%

Open Space

37%

34%

34%

32%

53%

38%

42%

Ciruli Associates, N400, 1999



Direction of City and Biggest Problem

Denver voters are highly satisfied with the direction of the city. Seventy percent of voters said the city was moving in the right direction. That was a 15 percent improvement since the last city election in 1995.


Ciruli Associates N400, April 1999

Question: Overall, would you say things are generally going in the right direction or do you feel things have gotten pretty seriously off on the wrong track here in Denver?
Traffic and congestion have replaced crime as the top concerns among Denver voters. Southeast and southwest Denver voters were the most concerned about traffic, congestion and growth. In a Denver poll during the 1995 mayoral campaign, crime (39%), too much growth (20%) and poor schools (15%) were the three top issues.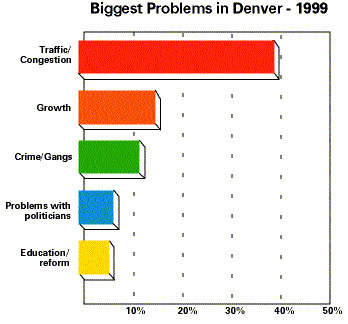 Ciruli Associates N400, April 1999

Question: Thinking about the city in general, what do you consider to be the biggest problem today in the city of Denver?

While Denver's growth has been modest compared to its suburbs, the more than seven percent increase during the last decade reverses nearly 30 years of population decline. Denver residents are also experiencing the pressure of suburban traffic on their roads from the booming economy, and especially sports and entertainment venues downtown.
Denver Population


---

Date
Pop.
1960
493,000
1970
514,000
1980
492,000
1990
467,000
1998
502,000


Political Name Identification

Only Pena and Webb could be identified with their current or former political jobs by more than three quarters of voters. District Attorney Bill Ritter and Councilperson Cathy Reynolds were correctly identified by more than 60 percent of voters. Councilperson Ramona Martinez and Butch (Fidel) Montoya, Deputy Mayor and manager of Public Safety, were identified by more than half of voters.





Can Name Person's Political Office


| | |
| --- | --- |
| Wellington Webb | 98% |
| Federico Peña* | 90% |
| Bill Ritter | 69% |
| Cathy Reynolds | 62% |
| Ramona Martinez | 56% |
| Butch Montoya | 56% |
| Susan Barnes-Gelt | 44% |
| Dennis Gallegher | 42% |
| Don Mares | 39% |
| Ed Thomas | 38% |
| Joyce Foster | 33% |
| Susan Casey | 21% |

*Pena identified as former Mayor or former Secretary of Transportation and Energy.

Question: Denver is now in the middle of campaigns for mayor, city council and auditor. Some political officeholders are very visible while others are not well-known. To help find out what leaders people have and have not heard about, among the following names please identify which city office you believe the person holds. If you are not familiar with the name or don't know the office, just say so.

In the next city election most of the current officeholders will be term-limited and will retire or seek other offices. Few of Denver's current officeholders have city-wide identity at this time. But as Federico Pena, Wellington Webb, Don Bain and Mary DeGroot showed, a low profile candidate can gain city-wide exposure quickly. And as of today, the field is open.


Survey Facts

---
Telephone survey of 400 registered voters in the city and county of Denver conducted by Ciruli Associates April 7 to April 15, 1999. The survey of the Denver city election was sponsored by 9-KUSA, 850 KOA and the Denver Post.


Sample was selected by computer from a list of likely Denver voters.


Statistical range of accuracy is 19 out of 20 cases is ±4.8 percentage points. Sample tolerances for subgroups are larger.


Survey will be published in The Variable, a Ciruli Associates newsletter, and website at www.ciruli.com.


Due to rounding, not all totals equal 100 percent.